Bhaskar Interior is a highly qualified and most trusted interior design company in Delhi & Noida
Our Organization "Bhaskar Interiors & Decorators" was established in the year 2010 in New Delhi India.  Bhaskar Interiors & Decorators epitomizes quality & style with its wide range of Wallpaper, Flooring & Window covering products. We are also a dealer & supplier of products such as Wallpaper, Flooring, Artificial Grass, Blind, Pvc Wall Panelling, Grid False Ceiling. With the most innovative product range and high standards in quality Bhaskar Interiors & Decorators aims to provide you with the latest in interior design. With the most innovative product range and high standards in quality Bhaskar Interiors & Decorators aims to provide you with the latest in interior design with the most innovative product range and high standards in quality Bhaskar Interiors & Decorators aims to provide you with the latest in interior design.With the most innovative product range and high standards in quality Bhaskar Interiors & Decorators aims to provide you with the latest in interior design.With the most innovative product range and high standards in quality Bhaskar Interiors & Decorators aims to provide you with the latest in interior design
Mission  & Vision
Intended to meet client demands as per their satisfaction and concern the company works on certain principles and ethics.  Designed to provide a complete solution for interior decorating services including Wallpaper, Flooring, Artificial Grass, Blind, Pvc Wall Panelling, Grid False Ceiling our every piece is marked with creativity beyond brilliance. Bounded with world-class hospitality, assured guidance, fabulous designs, and a dependable product range we have been able to mark a niche over the years in the industry.
Product Range
Our product range compiles quality beyond excellence aiming to deliver the best of interior decorating solutions. Equipped with a well-defined installation team our team members are much capable of delivering excellence in handling multiple projects.
Wall Paper
Flooring
Artificial Grass
Glass Films
Blinds
PVC Wall Panelling
Grid False Ceiling
 Team
Team Bhaskar Interiors & Decorators is now a name that brings confidence and trust among clients in the architectural and building industry. We pride ourselves on a well-equipped and Well-mannered installation team. The team is capable of handling multiple projects. We have the most experienced team in the industry who has executed work for the most prestigious sites.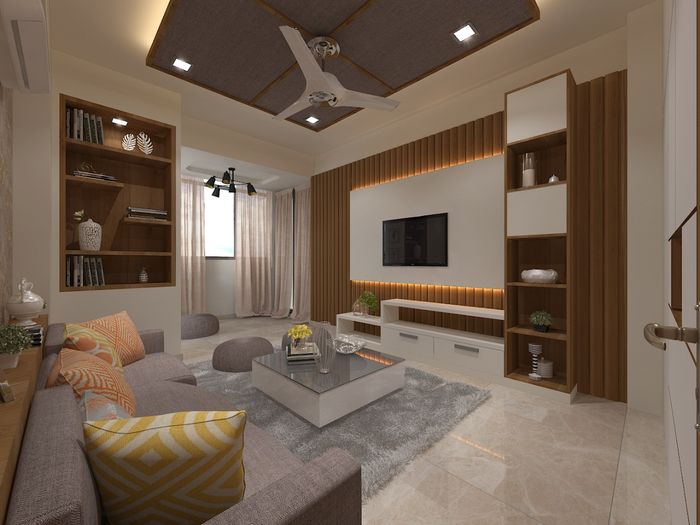 Commercial Appoinment
Do You Want To Work
Business Hours:
Monday - Saturday 10.00 AM - 08.00PM
* Every Sunday and all govt holidays are closed